On 26 September 2016, Jiangsu Provincial People's Government held a grand awardceremony for the "Jiangsu Friendship Award" at Nanjing. Twentyoutstanding foreign experts from various circles of the province won the 2016"Jiangsu Friendship Award" for their contributions to the economicconstruction and social development of Jiangsu Province in recent years.
Among them, Artur Cavaco-Paulo, Chair Professor of the "Cheung KongScholar" Program, specially-appointed doctoral tutor of JiangnanUniversity and Professor of University of Minho in Portugal won this specialhonor for his outstanding contributions in personnel training, scientificresearch and improving the international influence of Jiangnan University.Since 2007, Professor Artur Cavaco-Paulo has for many times given lectures atJiangnan University, and conducted academic exchanges and cooperation inscientific research, having given strong support to the development of thetextile disciplines of Jiangnan University. In order to further deepen thecooperation with Jiangnan University, Professor Artur Cavaco-Paulo and theEcological Dyeing and Finishing Laboratory at School of Textile and Clothing ofJiangnan University jointly established the "Jiangnan University TextileBiotechnology International Joint Laboratory" in May 2014.
As the chief expert of the international joint laboratory, Professor Artur Cavaco-Pauloworks in Jiangnan University for more than two months each year, personallyguiding young teachers and graduate students to carry out scientific researchand jointly undertaking postgraduate courses. Actively giving play to hisinternational academic influence in the field of textile biotechnology,Professor Artur Cavaco-Paulo has organized several international seminars, andjointly applied for international research cooperation projects, having effectivelypromoted the development of this interdisciplinary textile biotechnology inJiangnan University and lifted its international influence in this field.
At the ceremony sponsored by the Jiangsu Provincial Government, ViceGovernor Zhang Lei presented award to 20 award-winning foreign experts from 12countries and made a speech, expressing thanks to them for their contributionsto the development of Jiangsu over the years. Zhang said that Jiangsu wouldimplement a more open human resource policy, make greater efforts to attractforeign talent and intelligence, continue to create a favorable environment forthe development of talent, and accelerate the construction of internationaltalent highland. After the Italian Professor Ezio Manzin of Jiangnan Universitywon this award in 2013, Professor Artur Cavaco-Paulo becoming the successfulwinner of Jiangsu Friendship Award is another special honor of JiangnanUniversity in international exchanges and cooperation in recent years."JiangsuFriendship Award" is the highest award granted to the foreign expertsworking in Jiangsu. So far, altogether 265 foreign experts have won thisspecial honor.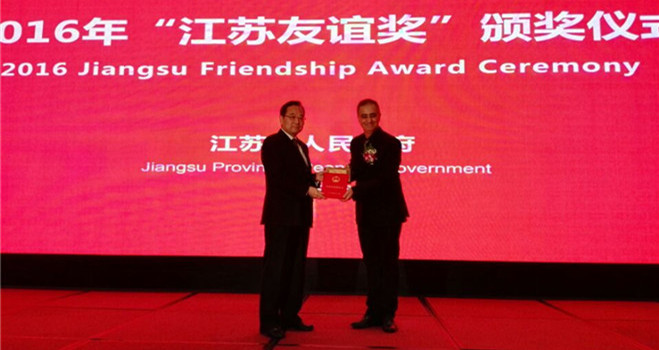 Vice Governor Zhang Lei presented award to Professor Artur Cavaco-Paulo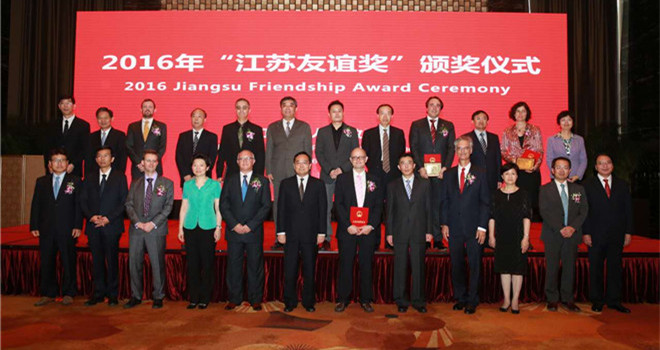 Group Picture of Award-winning Foreign Experts and Provincial Government Leaders