On the morning of March 19, with the starter's pistol at the intersection of Yinxiu Road and Taihu Avenue, began the 2017 Wuxi International Marathon. The competition, featuring the same theme of "Running in pictures" as its predecessors, was divided into three categories: the full marathon (42.195 kilometers), the half marathon (21.0975 kilometers), and the mini marathon (4.5 kilometers). The terminal of the half marathon was set again in the Sports Center of Jiangnan University for the second consecutive year.
At about 8:30 in the morning, all athletes with their competition costumes ran through the north campus gate at a steady pace into our university. Along the way, there were many heart-warming and sweet bilingual slogans and banners reading like "Taste JU, Run for Better!", "Run for Wuxi Marathon, We are together - Welcome to JU", "Fight for Wuxi Marathon, Keep Your Passion Alive -- Welcome to JU". The athletes were fully encouraged and maintained a high morale by waves of shouting and cheering from our spectators despite the heavy rain.
In order to ensure the success of this Marathon, Jiangnan University made detailed preparations and organized more than 2, 500 students for the volunteer service, who provided considerate services like the track guidance, energy supply, and medical care and so on. For all these, our well-trained volunteers won high praise from both the athletes and the organizer of competition. In addition, for the safety of the athletes, Jiangnan University also implemented temporary traffic control measures on campus, and stopped all campus buses.
Wang Yang, the half-marathon champion who has started marathon since 2000, crossed the finishing line excitedly at about 8:40 with open arms, a thumbs-up sign, and a warm smile. He said he enjoyed running marathon in Jiangnan University thanks to its beautiful tracks, considerate services, and the spectators' enthusiasm. He looked forward to taking part in marathon again next time.
The International Marathon fully mobilized the sports enthusiasm of both faculty and students in our university. A number of long-distance running lovers from our university also took part in the competition, who showed their youth, vigor and vitality, the spirit of striving upward and daring to challenges to the world.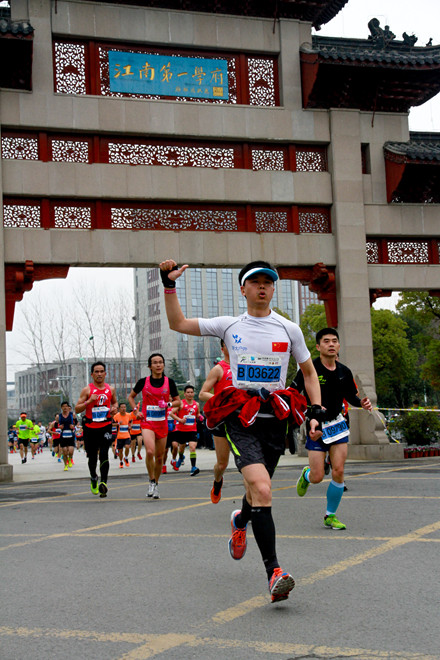 Running into The Jiangnan University Tracks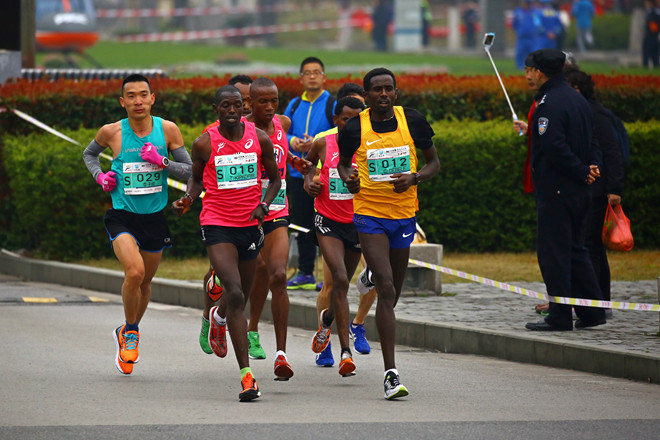 Int'l Friends Running Passionately
Half-marathon Champion Breasting The Tape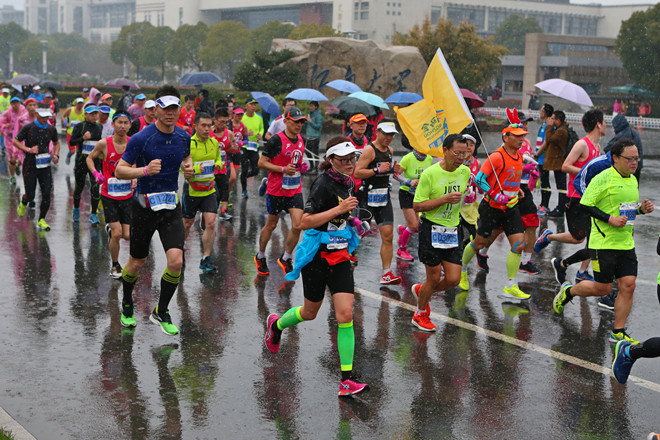 Running in The Rain