Recently, nearly 20 Jiangnan's international students from America, Romania, Britain, Netherland and some other countries were invited to attend the 6th Traditional Shangsi Festival -- a folk culture festival in Wuxi. In the morning, they arrived at the Tongting Square to participate in the opening ceremony. A dragon dance performance started a colorful parade around 9 am. The students formed a phalanx to join the parade. Although the parade lasted only twenty minutes, it really made students feel happy and exciting.
Then the students came to the second leg of the event--visiting the local Yuqi Distillery, known for producing yellow wine (huangjiu) by using aged wine as an ingredient. It is like wine on top of wine, so it is also named double-set wine. The students were guided to visit the wine set museum and wine culture museum, in which students eye-witnessed the different kinds of traditional wine utensils and the whole process of how to make double-set wine. After that, they went to wine workshop and tasted personally the distinctive flavors of yellow and rice double-set wine, China time-honored brand, and the local sesame-flavor liquor. In the afternoon, these international students came by bus to old village of Lishe--the ritual club, located southwest of Tongting Square. It is the final stop for the students who took a cultural folk tour of Yuqi town. They tried wearing the typical apron by blue-and-white cloth, making the traditional folk desserts such as pastry cakes, sweet green rice balls and cakes with foot stepping. They also did some other hand-craft work, such as powdering with mill stone, rubbing powder, and making green juice with ground stones. They felt much satisfied and proud when they ate the self-made cakes.
This folk culture festival provides good opportunity for international students to better understand China and the personal participation in the traditional events is more important for them to experience and enjoy the charm of the Chinese traditional culture and Chinese intangible culture in heritage.
A phalanx by international students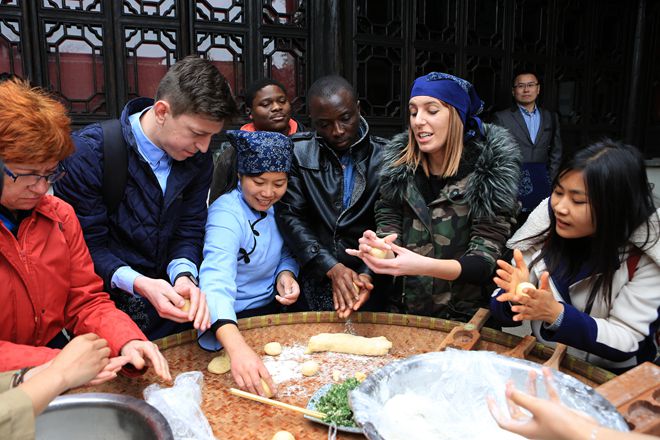 Making traditional folk desserts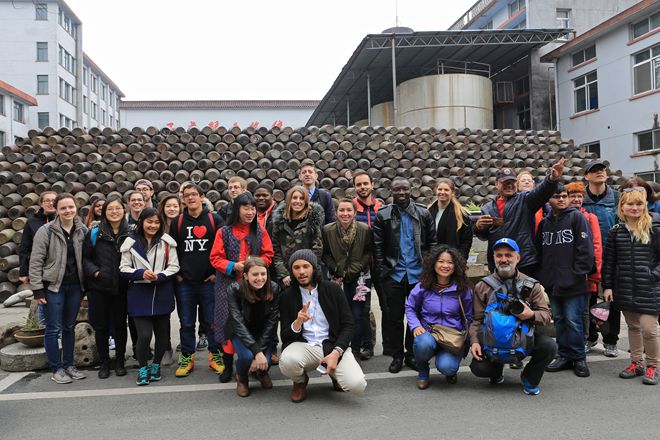 Taking a group picture